GREATER AMERICA DISTRIBUTING
A self-service convenience store, shrunk down and placed in your business.
February, 2015 - Music and Games
Arachnid
Tournament G3 darts in stock.
Rowe/AMI
Take advantage of the Outstanding 1st Quarter Promotion.
Contact your Sales Representative for Details.
New VIDEO JUKEBOX now available with Update Kits and Marquees in stock.
Now patrons can view thousands of videos on location's widescreens from almost any
AMI powered jukebox for one additional credit. Call GAD for details!
The New Continental Video Jukebox.
The Continental includes a 24" horizontal touchscreen with a credit card reader and dual
MEI bill acceptors, a VESA mount bracket, and a wall mount bracket for mounting up to a 60" HDTV.
TAPTV is in stock. Call today and learn about the Tap TV business model.
Stern
COMING SOON: WWE WRESTLE MANIA
Pro Pinballs in Stock: The Walking Dead, AC/DC, Mustang, and Star Trek. Premium Pinballs in Stock: Mustang and Star Trek.
Hyosung
The New Hyosung Halo ATM in stock.
Smart Industries
Pirates Chest, Candy Crane and Hot Diamond in stock
Kalkomat
Dynamic Boxer in stock.
FunCo
Multicade Upright and Cocktail Tables, Williams Multicade in stock.
19" cabinets and Widescreen cabinets in stock
Raw Thrills
Big Buck HD in stock.
Incredible Technology
GT Live 2015 and Silver Strike Live in stock.
Valley/Dynamo
Valley Panther Pool Tables and Platinum Tour Addition Tornado Foosball in stock.
Merit
GAD has a limited supply of 2014 Ion Kits available on a first come first serve basis. ML-1's in Stock.
GREATER AMERICA HAS MTX SPEAKERS IN STOCK
Announcing the redesigned ThunderPro Series with sleek new design, lighter cabinet weight and front low frequency ports.
The Three models to choose from are the TP1100, theTP1200 and the TP2400.
The new MTX ThunderPro2 TP Series Big, Big Sound on a Not-So Big Budget.
Call your GAD Rep Today.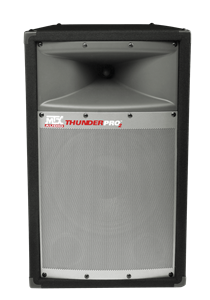 TP1100 $100.00 TP1200 $110.00
Designed for mobile DJs, musicians, and loud music fans everywhere, MTX Audio has redesigned its ThunderPro2 professional loudspeakers series. These sturdy speakers are durable enough for your home party system, garage, or live performances anywhere with a stainless steel grille, MDF box covered with aviation grade carpet, and sure grip handles for easy mobility. Up to a 400W peak power handling, these speaker systems feature an X-radial design, horn-loaded tweeter to hit crisper highs and ported high excursion woofer configurations for better low frequency response
Power Handling: Power Handling:
100 Watts RMS to 200 Watts Peak 150 Watts RMS to 300 Watts Peak
One 10" Subwoofer One 12" Subwoofer
X-Radial Horn with FerroFluid Cooled X-Radial Horn with FerroFluid Cooled
Tweeter And PTC tweeter Protection Tweeter And PTC tweeter Protection Frequency Response: 66Hz-20kHz Frequency Response: 39Hz-20kHz
Sensitivity: 92.1db Sensitivity: 91.4 db
Height 21" Height 24.75
Width 13.75" Width 15.25"
Depth 10.25" Depth 12.75"
Full 5 Year MTX Warranty Full 5 Year MTX Warranty

T082-B $150.
Whatever the the weather, the T082-B's are up to the challenge.Being
constructed of weather resistant materials such as UV-resistant talc impregnated
Polypropylene injection molded cabinets, Hycone treated speaker components,
Powder coated aluminum grills and all brass hardware, makes these speakers virtually bulletproof.
They can be mounted vertically or horizontally as the symmetrical high frequency section
enables even coverage in either configuration.
Woofer 8"

Tweeter 1" Compression driver

Frequency Response 65Hz-20kHz

Impedance 8 Ohm

Power 150 Watts RMS 225 Watts Peak

Sensitivity 92db

Dimensions (HxWxD) 16.5"x9.0625"x8.4375"